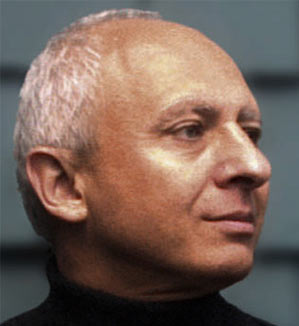 Oleg Atbashian
• Portrait by Larissa Scott

Growing up in the USSR, where the only permitted sources of information were textbooks and the official media, I believed that the Soviet Union was the most advanced society, while all other countries lived in poverty and oppression, devoid of the sun of Marxism-Leninism. I wanted them to become more like the USSR for their own good, and couldn't wait to grow up and live in the communist future, not worrying about money.
With years, as I began to encounter boundaries to intellectual inquiry, coupled with rampant hypocrisy and corruption, I initially attributed it to the wrong, dogmatic interpretation of Marxism by the ruling elites. Next came the realization that Marxism was not the solution, but the cause of the dysfunctional system, and that the communist utopia was only a dead-end exit in humanity's long and stressful journey towards progress. I took on activism, joined political underground, collected signatures in defense of dissidents, and wrote articles and short stories that satirized socialism and the self-delusional Soviet regime. Most of it was never published.
I moved to the United States in 1994, hoping to forget about politics and enjoy life in a country that was ruled by reason and common sense, whose citizens were appreciative of constitutional rights, the rule of law, and the prosperity of free market capitalism. But what I found was a society deeply infected by the leftist disease of "progressivism" that was jeopardizing real societal progress. So I started writing again, this time in English.
The result is this book, as well as many more essays, political parodies, and cartoons, published in various media in America and around the world. Most of it is collected at my satirical website ThePeoplesCube.com - a spoof of "progressive"ideology, which Rush Limbaugh described on his show as "a Stalinist version of The Onion."
Oleg Atbashian